Los Angeles Hotels Online offers discount reservations at major Los Angeles Hotels, as well as hotels in the surrounding Los Angeles area including Palm Springs, Hollywood and Anaheim.

Try our Online Reservation System where you can check room availability, prices and make a reservation once you are ready.

Los Angeles – it´s famous for so many things. The choices of what to do and see are enormous – and there are always new things to experience. Los Angeles offers a range of activities that will satisfy all sorts of visitors.

Choose to go see some of the places you've heard about for years, and seen on television, or in the movies. Consider:

Disneyland
Universal Studios
Hollywood
Grauman Chinese theatre
Santa Monica pier
Hollywood Walk of Fame
Beverly Hills/Rodeo drive
Kodak Theatre
Griffith Observatory
Visit the TV studios and see the set of your favorite TV show. You just might be able to watch it being taped.



Perhaps you feel like going to a museum. Here's just a few:

Getty Museum
Museum of Contemporary Art (MOCA)
Craft and Folk Art Museum (CAFAM)
Los Angeles County Museum of Art (LACMA)
Petersen Automotive Museum
Natural History Museum
California Science Center
California African American Museum

Feel like being active? Try rollerblading by the beach, bike-riding, surfing, hiking, or playing tennis. You can try your skill on a trapeze at the Santa Monica pier. If golf is more what you had in mind, choose from a wide range of golf courses. In Los Angeles, you can take part in every type of outdoor sport imaginable, or just watch the professional sporting teams at play.

Do you like the beach? Choose from 8 great beaches, each with their own personality - from the infamous Venice beach where people watching is king, to the classic Santa Monica State beach. Here's a list of the 8 beaches:

Venice Beach
Manhattan Beach
Malibu´s Surfrider Beach
Santa Monica State Beach
El Matador Beach
Hermosa Beach
Cabrillo Beach
Leo Carillo State Park



If you want to shop, Los Angeles has shopping. From Rodeo Drive to quirky little unique shops to mega million dollar shopping centers – it´s all here.

Los Angeles boasts top notch entertainment, that includes a nightlife featuring the hottest clubs, best comedy clubs, and trendy dance clubs. Enjoy all the art, music, entertainment that Los Angeles has to offer. There are restaurants galore for every ethnicity, every budget, with some of the country's top chefs

Drive around the city. See the influences that history has made on the city - from the Tongva Indians that settled in the LA basin circa 500 AD, Spanish explorers, Mexican settlers, and the California Gold Rush. See the La Brea Tar Pits with fossils from 38,000 BC. See some of the cutting-edge architecture Los Angeles is known for. Venture further out from the city and enjoy scenic drives.


Come and experience LA! You´ll be glad you came.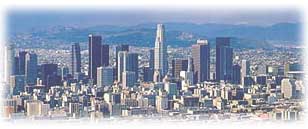 For Reservations
Call 1-800-371-8012
For Las Vegas, Reno and Lake Tahoe hotel discounts, please visit www.las-vegas-travel.com
Copyright© 1998- Los Angeles Hotels Online
All Rights Reserved


When you travel to areas that do not have cell phone coverage, we recommend that you purchase or rent a satellite phone. Our recommended supplier for satellite phone sales and rentals is Satellite Phones Direct.
www.SPDirect.com